John Schneider has a new TV series, his own production studio, and a new horror/comedy film that he wrote and directed. He's come a long way since his breakout role as Bo Duke in the hit TV series "Dukes of Hazzard." I recently had the opportunity to do a phone interview with him. Here's what he had to say...

John Schneider Interview September 2014

John, you're probably best known for your roles in "The Dukes of Hazzard" and "Smallville." Those were some long running hit TV shows.

(Laughs) Well... there you go. Of course it depends on your age. The new show, "The Haves and the Have Nots," is a show that's going great guns. It's funny...people want to talk about the other shows all the time and this one is actually current. (Laughs.)

That's the project you're working on right now with Tyler Perry, right?

Right. Yea. We're doing our third season right now and it's been very very successful on the Oprah Winfrey Network... so I'm excited about it. Looks like it's every bit a hit as these other two shows you mentioned.

A lot of people might not know that besides your acting you're also a filmmaker.

Yes... well... I'm hoping to have more people know that. But yes... it's true.

What aspect of filmmaking do you enjoy the most?

Well everything. Everything from soup to nuts. Write the screenplays.. direct the movies... I have a studio here in Holden, Louisiana that I've been putting together the last couple of months after we did a horror/comedy last year called Smothered, that hopefully people will get to see in theaters before too long. Probably, if you don't know that, then you don't know I wrote and directed the last episodes of "Dukes." So it's something I've been doing for a long time and I'm finally getting to do it on a more regular basis.

What's your writing process like?

I have a theory about the way a story should be told. Usually a concept will hit me... like a genre will hit me... like... is it a love story... is it a comedy... is it a murder... is it a mystery? I believe there are certain promises that are made in any script... like that they need to include, for example if you're doing a movie about a robbery then there's going to be a car chase in it... if you're doing a movie about some bikers that are part of a reality show, then there's going to be some backstage at the reality show and some action in regards to the motorcycles going down the street and somewhere the good guy and bad guy are going to have to meet... and in my world the good guy has to win by the skin of his teeth. So... it kind of changes with every script that I write. There's one that's been read quite heavily on Facebook called The 29 which is kind of a conspiracy theory movie... so that has some promises innate to that... things have to happen... things have to blow up... certain people have to know where they are and others have to wonder.

Is The 29 your next project?

No. The 29 sadly won't happen for awhile because it's very expensive. There's planes and military bases and lots of people... so probably the next project, the one that we've been trying to do for a couple of months and for some reason we haven't been successful in raising the finances for, is a twisted love story called Anderson Bench. It's about a guy experiencing the best day of his life and trying to figure out how to end it. (Laughs.) A light-hearted comedy.

Will you star in it?

No. I'm not going to be in any of these... writing and directing.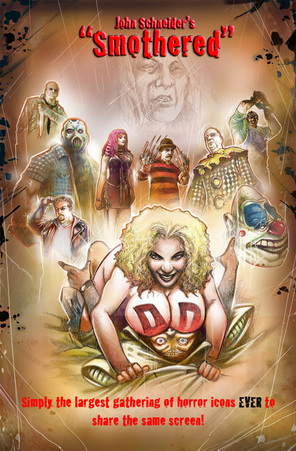 You mentioned your new film Smothered. Tell me more about it.

Smothered is a movie about a group of horror icons that are having a bad trade show... a bad weekend... who get hired to haunt a RV Park for the weekend and they accept that challenge because they can make more money at the RV Park than they ever could at this really bad trade show. Of course this is a horror film so what ends up happening to them is they get killed... in horror film fashion... while trying to haunt an RV park that's actually filled with RV's that are filled with mannequins... so it's a bizarre sort of a comedy.
Now the people that star in it are horror icons... we've got Kane Hodder who was Jason... R.A. Mihailoff who was Leatherface... Don Shanks who was Michael Myers.. Michael Berryman from The Hills Have Eyes... John Kassir who was the voice of the Cryptkeeper.. and on and on... so all these folks are in this film and it's been very well received in the couple of horror conventions that I've shown it. I've done screenings of the film a couple of times and people have really enjoyed it. I'm happy with it except it doesn't have distribution yet.
It's really a mystery to me, Patrick, because I've had so many horror fans see the film and so many people have reviewed it online and said "this is a love letter to horror fans everywhere..."You've got to see this movie when it comes out..." "You've got to buy the DVD when it comes out..." "This is truly a unique horror film. Must See!" ...and I don't have a distributor. It's a mystery. I'm not sure honestly why someone hasn't smelled money and wanted to run with this film.

How did you come up with the idea for Smothered?

Oh Hell... I don't know. How do you come up with inspiration? It just hits you. Although, I was at a horror convention in Dusseldorf Germany and I had not been there before but with the power of "Dukes of Hazzard" and the power of "Smallville..." I was having a great weekend and my horror icon friends who had been there several years in a row were having a terrible weekend and that's when it kind of dawned on me.

What advice can you offer to aspiring filmmakers?

Well... get yourself a fundamental knowledge of editing... and you do this best by watching your favorite films with the sound off so you can see exactly where the cuts are. Go to Best Buy and get yourself a nice low to middle range consumer camera. I have one here that fits in your pocket and it's better than a $20,000 camera from ten years ago. (Laughs.) Go out and make your movies. Go do it. Do it and do it over and over again and get your stories told.
I believe in just going out and hitting the streets and making your film. You can write your stories down and make sue you have a good script and good blueprint to go by and just go do it. Put it up on Youtube if you want and maybe people will notice you. It happens all the time... it's the strangest thing... people who have hundreds of thousands or millions of hits on a film they did on Youtube all of a sudden wind up directing hundred million dollar films for Universal... solely based on the number of hits they had on Youtube. So there's a route you can try. It's crazy. (Laughs.)

John, thank you very much for taking the time to talk with me. I appreciate it.

I appreciate your questions, Patrick. I'm delighted always to talk about movies and what's going on at the studio here in Holden, so thank you for the time.

XX

Here's a promo for Tyler Perry's "The Haves and the Have Nots."

Here's the trailer for John Schneider's new Horror / Comedy film Smothered...