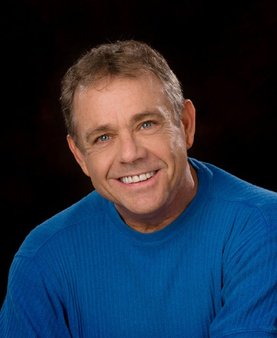 When I was a kid my favorite breakfast cereal was "Crazy Cow," the cereal that turned your milk into chocolate milk while you ate it. I can remember getting up on Saturday mornings in my Spider-Man Underoos and fixing a big bowl of Crazy Cow. I would sit on the floor in front of our big black & white console TV and watch the test pattern on the screen until the broadcast day would begin. Who remembers the test pattern? Yep… TV wasn't on 24/7 like it is today.
I would watch a lot of cartoons like "Hong Kong Phooey," "Speed Buggy," "The Jetsons," and "Wheelie and the Chooper Bunch." Then, later in the day there would be live action shows that I looked forward to the most like "Shazam," "Run Joe Run," "Sigmund and the Sea Monsters," and "Land of the Lost."
That was 40 years ago. This year marks the 40th Anniversary of "Land of the Lost" which was created by the duo of Sid & Marty Krofft. The Krofft's were known for a slew of hit Saturday morning live action shows including "H.R. Pufnstuf," "The Bugaloos," "Sigmund and the Sea Monsters," "Electra Woman and Dyna Girl," and "Wonderbug."
"Land of the Lost" was about a family (father, son, and daughter) that gets trapped in a strange world where time periods collide. This happens while they are on a rafting/camping trip and an earthquake causes the ground to open up and swallow them. The strange world they end up in is much like prehistoric times with dinosaurs roaming around, but in addition there are vicious lizard people called the Sleestak, a tribe of monkey people called the Pakuni, and other people lost in time… like a Civil War soldier. The land is filled with danger and mystery at every turn. The family (the Marshalls) must search for a way to get back to their own land and time… but until that day comes they must make the best of it and find a way to live in their new world.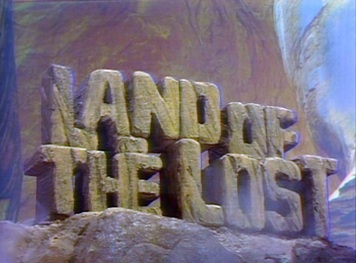 I can remember watching this show each week and then going outside to meet up with my friends and play like we were trapped in the Land of the Lost. We came up with a game of chase where some of us were the Marshalls and the others were the Sleestak. The Sleestak would chase us all around the yard and we had to make it back to the carport (our cave) to be safe. If a Sleestak would get one of us we immediately became a Sleestak and would join in the chase. Fun times. It's hard to believe that it was 40 years ago.
The series ran for three years. It was so popular that in 1991 it was remade as a Saturday morning series and in 2009 a big budget movie was made starring Will Ferrell, Danny McBride, and Anna Friel. In addition there were board games, lunch boxes, Halloween costumes, and other merchandise produced. Today merchandise is still being produced… like… posters, bobble heads, and DVDs… and I hear that another remake or sequel might be in the works.
I recently visited with actor Wesley Eure who played the boy (Will Marshall) in the original series. I was able to talk with him about the show and here is what he had to say…

PATRICK: Wesley, how did you get the role of Will on "Land of the Lost?"

WESLEY: I met Sid Krofft and knew him and I was on "Days of Our Lives" and had mutual friends. Sid called me and said he had a show he was casting and that I'd be perfect for it and he wanted me to audition. They wanted me to play sixteen and I was like twenty something. I didn't think I wanted to play sixteen. Anyway, I said yes and I got the part.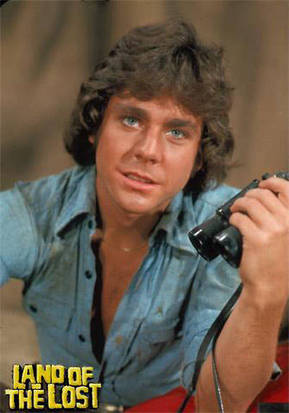 PATRICK: What did you think about the rest of the cast and do you stay in touch with any of them?

WESLEY: We had a blast! We really liked each other. Kathy and I remained close and Phil and I became very close. We just saw Spencer Milligan for the first time in 30 years. A documentary is coming out about it. We were like family. Spencer was like our dad, Kathy was the Sister, and Philip was our pet. (Laughs.) Kathy and Phillip already knew each other. They were both kids and had worked in commercials together. It was felt when Spencer left the show. I felt it a lot. Then Harper came in. I was working with his wife on "Days of Our Lives" during the day and then with Ron on "Land of the Lost" at night. NBC let me do both shows and accommodated me for the three years. They would let me shoot my scenes first so that I could leave. Some of the other actors on "Days of Our Lives" were getting jealous because I got special treatment. (Jokingly laughs.)

PATRICK: What was it like to work with Sid & Marty Krofft?

WESLEY: They were great! They were legends. Saturday mornings was their domain. They had all the shows. "Land of the Lost" was the longest running of their shows. They were tight on their budgets. We were all at a premiere party for the Land of the Lost movie in 2001 and every celebrity imaginable was there. I looked around at all the ice sculptures and the food and I said… you know, this party cost more than the entire three seasons of "Land of the Lost." (laughs.)

PATRICK: Were you a fan of their previous work?

WESLEY: Yea. I had watched a little bit. I was in my twenties. I had seen some and I thought that they were fun and a little goofy. When I started "Land of the Lost" I met Deidre Hall who played Electra Woman in one of their shows. She told me she wanted to audition for "Days of Our Lives" and I helped her prepare for that. She got on the show and is still there today. She plays Dr. Marlena Evansne, one of the longest running characters on that show.

PATRICK: What did you think about the scripts?

WESLEY: "Land of the Lost" was going to be like Swiss Family Robinson… a dad and his kids lost in a wilderness having to survive. David Georlld… he wrote "Star Trek" episodes… he was the head writer and took it and turned it into science fiction. He hired all "Star Trek" writers including Walter Koenig, who played Checkov on "Star Trek." Walter was the one who created the character Enik. The show had some of the best Sci-Fi writers ever.

PATRICK: Do you have a favorite episode?

WESLEY: I liked "The Circle" with time doorways and the time continuum. "Land of the Lost didn't talk down to kids… it talked up to them. We walked through the portal and left. We got to return to our time and home… but our doppelgangers came though. We were told that if three leave… three must come back through. It was great.

Patrick: How many Sleestak costumes were there? My guess would be three because you never saw more than three Sleestak at a time.

WESLEY: You're right. It was three. They were made by Mike Westmore who now has that show "Face Off." David Georlld created the Sleestak characters. Mike made the costumes in his garage. He used wet suits and added scales and stuff to them. The actors were all UCLA basketball players over 6 feet tall… and then they used stilts… then the pointed heads… after all that they ended up like eight feet tall. They couldn't stay in the wet suits for long because it was too hot. When they would take them off water would come pouring out from sweat.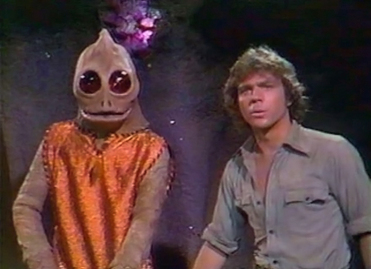 PATRICK: How did it come about that you got to perform the opening and closing theme to the show?

WESLEY: I was with a group from Motown… white boys from Motown… you know how that went. (Jokingly laughs.) The studio wanted me to do the theme song because of my popularity at the time. I was on the cover of Tiger Beat magazine and other teen magazines… so they had me do it. Then for season three when Spencer left and Harper came in I went back and recorded the new song about Uncle Jack.

PATRICK: What were the sets like?

WESLEY: There were two full soundstages. They were huge and were like giant barns. One had the lagoon, the jungle, and the cave. The other one had the interior of the cave and the side of the building was painted blue. Chromakey is what it was called back then. It was cutting edge and had never been done yet… the mixing of video and film. The dinosaur animation was already shot on film and then they would put us in front of the blue screen and shrink us down to scale with the dinosaurs. It was a lot of fun.

PATRICK: What was the shooting schedule like each season?

WESLEY: It was the fastest. We shot two episodes a week… every two and a half days was one episode. The animation was already done when we came in. It was quick.

PATRICK: Did you keep any souvenirs from the show?

WESLEY: I did. I got the old red backpack that I had all three seasons and my knife. The backpack is signed by everyone now.

PATRICK: Did you buy any of the merchandise?

WESLEY: Some lunch boxes… I see more of that stuff on e-bay. That's one of the reasons Spencer left the show… we weren't getting anything from the merchandise.

PATRICK: I know you attend Comicons and conventions. What's it like to be at a table and sign autographs for "Land of the Lost" fans?

WESLEY: Oh… I love it. Especially when all three of us are together. There's a chance that Spencer will join us for one signing next year in Chicago… and if the documentary comes out that will be a plus too. It's been 40 years. We're so old. (Laughs.) People come up to us and tell us amazing stories. The show was about a dad and his kids who lost their mom. He was a single dad. So a lot of fans that were growing up with a single parent or came from broken homes or who had lost a parent would tell us how they could relate to the show. The fans are great. The show meant a lot to so many people. It's amazing how many celebrities love the show. "Land of the Lost" started a lot of kids into Sci-fi.

PATRICK: What do you think the future hold for "Land of the Lost?"

WESLEY: David's half way through with his novel. He announced it three years ago at Comicon. The Kroffts say that they're gonna do it. The story is that Will and Holly had a brother that couldn't go on the expedition with them. Forty years later he goes looking for his brother and sister and he ends up in the Land of the Lost.

PATRICK: Do you have any final comments about the show?

WESLEY: It was an honor. Who knew? Who knew that it would be a part of my life forty years later. Who knew that forty years later people would want to come up and talk about it. It has a whole new crowd watching it. Kids are watching it. The stories still hold up because it's good Sci-fi. It's truly an honor to be a part of the Sid and Marty Krofft legend.


You will have a chance to meet Wesley Eure in person on October 10-12 at the Lake Charles Film & Music Festival where he will be the Guest of Honor. Wesley will also be presented an achievement award at the fest for his work in film and Television. For more information on the festival visit the website at www.lakecharlesfilmfestival.com .

"Land of the Lost" will always be a great memory from my childhood and I can't wait to see where the franchise takes us next.

- Patrick Shawn Bennett