THE 48-HOUR FILM SPRINT is now underway!! You May Join In at ANY Time. Just register your team below and get going! Good Luck to All the Teams! We Can't Wait to See Your Completed Films!!!
Rules:

Starting now, your team has 48 hours to make a complete movie (3-10 minutes in length.)
If you have not yet registered your team (it's FREE) do so now before you begin. Register below on this page.
The film you make can be any genre you wish, but your film MUST contain the following three elements:

1.) a character named "Perfect Tommy."
2.) a snow globe used as a prop.
3.) the line of dialogue: "We're gonna need a bigger boat."

When your film is complete, upload it to Youtube or Vimeo and password protect it. Then send the video link along with the password to: info@lakecharlesfilmfestival.com
The link and password to your completed film must be received by the deadline of 6PM, Sunday, September 27th (Central time.) Once we receive the link we will verify that you have uploaded a complete film and we post an acceptance message on Facebook. Please do not take down your film or alter it in any way.
We also ask that you have no public screenings of your film (live, websites, FB or any other social media, until the festival. Please let the Lake Charles Film Festival have the premiere of your film at our fest on Saturday, Oct. 10. Once you receive our acceptance Facebook post, feel free to post that your Film Sprint Film will be screened at the Film Festival and invite your family and friends to watch the premiere with you.
We also encourage you to take photos during production of your film and post them to our FB page throughout the Sprint so that people can join in the fun you are having and cheer you on.
Thanks and good luck!


---
On Your Mark... Get Set... GO MAKE A MOVIE!!!!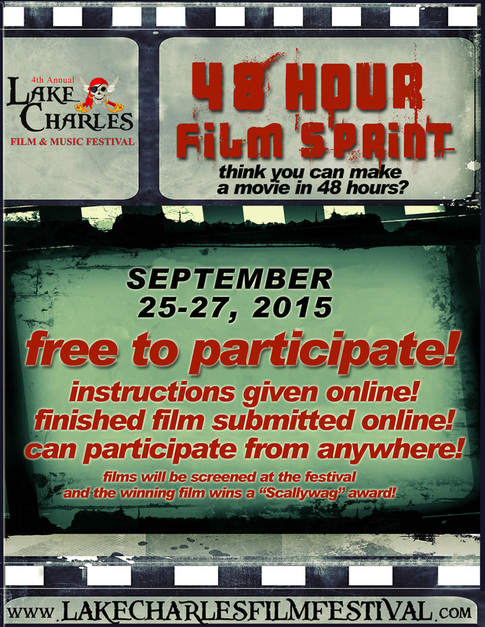 The Lake Charles Film & Music Festival presents:
The 48 Hour Film Sprint!
Think you can make a movie in 48 hours? Well... prove it!

The 48 Hour Film Sprint is FREE to participate in, but you must register your team.

WHO: ANYONE can enter. It doesn't matter if you live in Lake Charles or Timbuktu. You don't have to be present to participate, so you or your team can literally be anywhere in the world! Or even off the world if the crew of the International Space Station would like to participate.
Anyone can be on a team. Young, old, male, female, human, alien. You can have as many team members as you want on a team too. No limit.

WHAT: The 48 Hour Film Sprint is a fun competitive filmmaking game where each team is given a set of instructions on what must be in their film. (for instance, the criteria might be something like: you must have a pair of roller skates, a person wearing a blue cape, and the line of dialogue "Dude, where's my car.") The instructions are given out when it's time to start the game so that nobody knows the criteria ahead of time. Once you get the instructions, your team has 48 hours to write, shoot, edit and turn in a completed film 3-10 minutes in length. The film must contain all of the criteria which were given to you in the instructions at the start of the sprint. The completed link must be uploaded to Youtube or Vimeo in its entirety and a link sent to us before the 48 hour deadline in order for the film to qualify.

WHERE: Right where you're at. That's where. The instructions will be given to the teams on our website and Facebook page right when the sprint begins. So, if you are in New York City... you make your film in New York City. If you are in Montreal... you make your film in Montreal. If you are in Paris... Hong Kong... London... (I think you get the idea. You can participate from anywhere in the world.) Make the film where you are, upload it to youtube or vimeo and send us the link to the completed film. Once we get the link you cannot change anything on the editing. What you have at the end of 48 hours is what you have to go with.WHY: SCREENINGS & PRIZES: The top 10 films that we receive by the deadline will be screened at the 2015 Lake Charles Film & Music Festival. From those, one film will be picked as the winner. That team will receive 1 Scallywag Trophy (let the director keep it or pass it around the group as you wish), a certificate, and "bragging rights!" The winning film will also be posted on our website for everyone to see.
WHEN: The 48 Hour Film Sprint will begin on Friday, September 25th at 6:00 PM (Central) when the instructions are posted to our website and Facebook page and will end 48 hours later on Sunday, September 27th at 6:00 PM (Central.) All film links must be submitted by e-mail to info@lakecharlesfilmfestival.com before the deadline.



---
REGISTER YOUR TEAM BELOW...
---
Here's info from last year's 48 Hour Film Sprint...
There were seven teams... but only three had what it takes to make a complete film in 48 Hours!
Those three teams are:

TEAM PUMPKEN
BIT LOST
MI PRODUCTIONS

Their films were screened at the festival.
Here's the things their films had to include...

- The film could be any genre they wished... but here's a few elements the film had to contain:

1.) A character named Carson Diego that is a magician.

2.) A chess piece.

3.) This line of dialogue... "It's been many moons since I've been down Seven Bridges Road."

That was it. The teams had a blast and the audience enjoyed viewing them.
---